Health IT Solutions
Our Health IT Professionals have experience — with the latest health systems from Epic, Cerner, and other vendors – to help you strategize, design, implement, operate, and manage your integrated health environment and mitigate issues before they affect mission critical operations.
Legacy systems migration & modernization
Clinical systems integration
COTS/GOTS integration
Interface development
Workflow engineering
Training & "Go Live" Support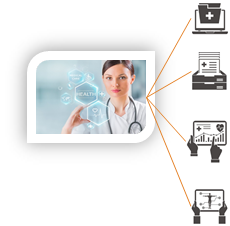 With a proper build and implementation, the need for later optimization is minimized, allowing you to realize your ROI sooner. Optimization isn't just for an install that hasn't gone as planned.
Sometimes leadership, legislation, or other organizational changes require that you take a second look at how you're running things. Our EMR strategy consultants can help you analyze ROI, evaluate post go-live metrics, train staff, and provide continued support for your installation.
Workflows, Revenue Cycle Management, Supply Chain Management, and other day-to-day operations require constant adjustment. Our optimization consultants are there to get you over those hurdles and make your enterprise more efficient to ensure operations remain streamlined.
We support legacy EHR and other software after a major migration. If you have an older system, and need help accessing or translating your data, retrieving reports, or other more specific tasks, we can help.